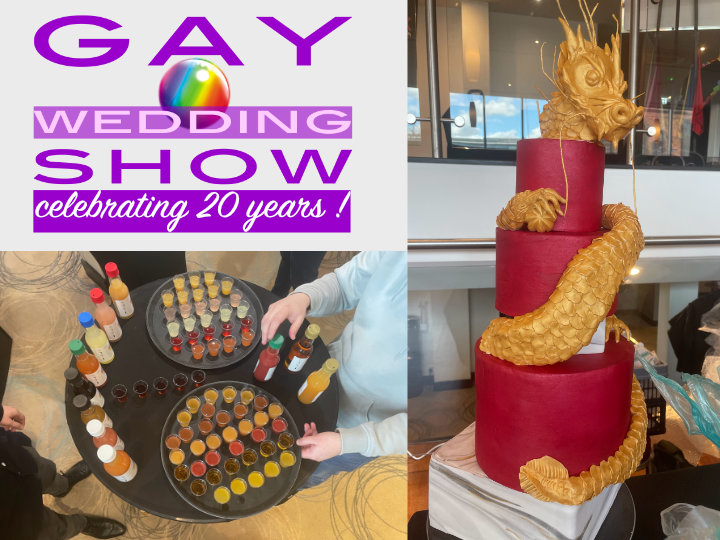 We constantly say this but the air was filled with excitement, music, colorful exhibitors and an abundance of amazing couples, families and friends.
2023 kicks off our 20th year hosting The Gay Wedding Show
Our Hostess Fonda was stunning and bought the house down with her banter, fun and singing while the exhibitors interacted with everyone making this one EPIC start to our 20th year!
Pic N Mix Cocktails' Bar stole the show but offering such a wide variety of delicious drinks and even a little shot or 2 of their bespoke gin for people to sample and enjoy – while our 20th celebration cake created by the amazing Wild Ginger Flower was cut by Gino and Mike and served to all, to continue the celebrations throughout the day.
Once again, the example ceremony chat and Q&A was a true hit – leaving many couples re-thinking their plans for the day and gave many that were about to plan even more ideas.
We would like to thank everyone from our awesome exhibitors to the wonderful Fonda Cox for making this event such a success – we could not have done this without your support.
Finally..
It was a bitter sweet ending to the show as this is our last year at the Holiday Inn Camden Lock due to their refurbishment and turning into an corporate meeting and events only hotel and no more weddings or parties – sad after 13 happy years BUT new adventures await us for 2024 so it's goodbye Holiday Inn and hello a fresh and fun new venue!